About MJIA: Investment Management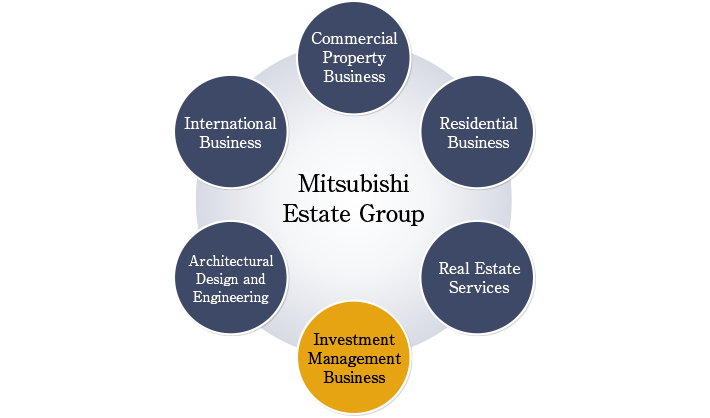 Mitsubishi Estate Group's investment management business
Providing a wide range of professional services related to real estate investment management
The investment management business of the Mitsubishi Estate Group looks after the needs of both individual and institutional investors. For the individual, there are REITs that generate long-term, stable returns. For institutions, there are private-equity funds designed specifically to meet their particular requirements.
The group provides world-class investment management services tailored to the varying needs of investors.
Since its establishment in 2001, MJIA has established fixed-term private equity funds for investment in office buildings, retail facilities, rental residential properties, and logistics facilities, to meet the individualized needs of institutional investors. In March 2011, the company established the Nippon Open Ended Real Estate Investment Corporation as an open-ended private-equity REIT for investors seeking long-term stability without term limits. In September 2017, Mitsubishi Estate Logistics REIT Investment Corporation was listed as a J-REIT, an investment trust focused primarily on logistics facilities which is accessible to individual investors.
Meanwhile, the Mitsubishi Estate Group's Japan Real Estate Asset Management Co. Ltd. has run Japan Real Estate Investment Corporation as a listed REIT specializing in office buildings since 2001.
Since the beginning of real estate securitization in Japan, the Mitsubishi Estate Group has provided a range of world-class real estate investment management services. Going forward, the Group will continue to develop the real estate investment market, offering a variety of investment management services and optimal investment opportunities to all types of investors, both in and outside of Japan.
Providing investment opportunities that leverage a global platform
In addition to the Japan Real Estate Asset Management Co., MJIA has also joined forces with the Rockefeller Group and Europe Capital to build a global platform for marketing, research, and the establishment of funds throughout the world. The company is in a position to provide investment opportunities to investors wherever they may be.